The complex devices all around us — from long-range satellite links in our cars and offices to powerful computers in our hand-held gadgets — prove beyond a doubt that we live in a technology-driven world. In the field of dentistry, new technology is constantly changing the way diseases are diagnosed, routine procedures are performed, and illnesses are prevented. Although they may seem unfamiliar at first, new and improved dental technologies offer plenty of real benefits for patients. Here's a look at some of the latest examples, coming soon to (or now appearing at) a dental office near you.
Air Abrasion Technology. Bothered by the noise and vibration of the dental drill? This air-powered device could make that familiar high-pitched whine a thing of the past! Working like a mini-sandblaster for teeth, this hand-held device removes tiny amounts of tooth material with precision control.
Cone Beam CT Imaging. What's better than an x-ray of your teeth? An on-screen, movable 3-D representation of your jaws! By taking a series of x-ray "slices" and stitching the images together with a powerful computer program, Cone Beam CT imaging creates a virtual model of your mouth. It can be used to find disease, plan procedures, and visualize internal structures that formerly wouldn't have been visible without surgery.
Dental Implants. Tooth replacement took a giant leap forward with the widespread use of dental implants — today's preferred method of replacing teeth. Dental implants are small titanium posts that replace the root part of your missing tooth. A realistic dental crown is then attached to the implant for a replacement tooth that looks and feels exactly like what nature gave you.
Digital X-Rays. Diagnostic x-rays have long been invaluable to dentistry. The emergence of digital technology in the past decade, however, has made dental x-rays safer and even more useful. Digital technology cuts radiation exposure to patients by as much as 90% over traditional x-rays. And there are other advantages including the elimination of waiting time for pictures to develop, and sharper images that can be enhanced instantly to show detail.
Intra-Oral Camera. A picture is worth… plenty, when it comes to helping you understand your dental examination, diagnosis and treatment! With these tiny cameras, you can see what the dentist sees, on a small chair-side monitor. The images of your teeth can be saved as stills or video — or even printed out — so you can see exactly what's happening in your mouth.
Related Articles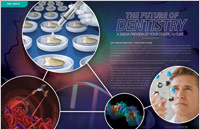 The Future Of Dentistry Can you imagine the day your dentist actually grows you a new tooth to replace one that has been lost? Can you conceive of the day when dentists protect babies from tooth decay before they even have teeth? Learn more about these exciting innovations — they're closer than you think... Read Article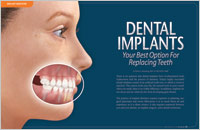 Dental Implants – Your Best Option For Replacing Teeth Dental implants have many advantages over older methods of tooth replacement like bridges and dentures — from the way they function and feel to the way they look and last. Vigorous research has documented and confirmed that in the right situations, dental implant success rates are over 95%. It is no exaggeration to say that they have revolutionized dentistry. They may even change your life... Read Article